Lower Makefield Township Neighborhood Watch Association (LMTNWA) is a group of citizens concerned with the overall well-being of our community and organized to anticipate possible problems, disseminate information and tend to the needs of our immediate neighborhoods in an attempt to preserve peace, harmony and good will throughout our area.
LMTNWA is comprised of smaller individual watches, each associated with a particular development or location and headed by a coordinator. These coordinators meet on a regular basis with township officials, usually Chief of Police Ken Coluzzi and Police Officer Mike Pell in order to maintain good relations with the township and also to keep abreast of all happenings in our community that we need to be aware of.
We urge all sub-divisions within our community to take part and organize their own neighborhood watch. Please click 'List of Watches' above for more information on our association and to learn how to start your own watch.
Christa McConaghy
President, LMTNWA
E-Mail Christa

For more information, or if you are interested in starting a
town watch in your neighborhood, click below: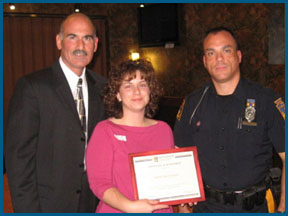 LMTNWA President Christa McConaghy
receiving a "Certificate of Achievement for Community Crime
Prevention" from LMT Chief of Police Ken Coluzzi
and Police Officer Mike Pell.

If you would care to donate to our
organization, please send checks to:
LMTNWA
c/o Lower Makefield Police
1100 Edgewood Road
Yardley, PA 19067
or use the Paypal link below: